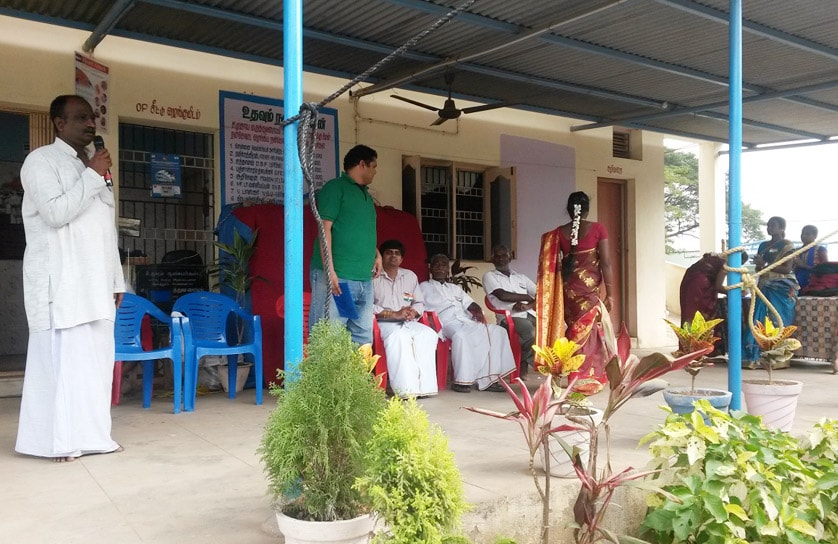 Udhavum Nanbargal Charitable Trust is a non-profit organization formed to help the underprivileged. This trust was started by a group of socially committed friends in 2004 with a common motive of helping people in and around Pakkam village.

This trust is located at 40 Km west of Chennai(Alathur village near Thiruninravur). This trust is managed by Mr.Sarathy, he donated his entire life for the development of the village and destitute children. The plans, vision and mission of Udhavum Nanbargal is to uplift the Alathur Village a self-sufficient & saturated one.

Main goal of the Trust is to "To help people move from homeless to self sufficiency". Udhavum Nanbargal caters to the need of the people in and around the Pakkam village and serves them to relieve them from poverty level.
Mission of the Trust
Uplifting the village (Alathur) to become a unified progressive development area as a self-dependent & saturated one.
Vision of the Trust
Bringing up the villagers to high quality and healthy life styles with good morale imbibed in these individuals & their families through :
Educating them in academics
Protecting their environment by maintaining it pure, hygiene, and green by doing ever fertile agriculture
encouraging them to start cottage industries to develop high value products and
by saving the un-encroachable water bodies permanently to raise the ground water level
thereby developing a consistent progressive village in India with peaceful and healthy environment in and around it.
Declaration of the Trust
We at Udhavum Nanbargal,
reach people by drawing action plans with a forecast of progressive development for the village and
with the help of public and a transparent administration we ensure that the donations and govt. welfare action plans reach the beneficiaries by and large
thereby raise this village to be the first of its kind out of all villages in India with our total dedication and by carrying out the social activities at the right time.
Brief about the Trust
Youngsters of Alathur Village formed this trust and registered it in 2004.
Trust runs Home for Orphan Children and Old Age Homes
Free Medicines are supplied to village people and cattle.
Free education is given to poor children
Trust runs free library and child labor prohibition schools
Solar street lights are provided with govt. subsidy to the villages
Toilets are provided to the village people with the help of govt. service agencies
A village information center is run to access all necessary information in the village
More developmental activities are being carried out for the welfare of village people
All these welfare activities are carried out freely with the help of a public service organization
Brief about the Trust
Home for Orphan Children
Oldage home
Community Health Centre
Education Assistance to differently abled persons and orphan children
Free Nursery School and Primary School
Vivekananda Computer Training Centre
Annai Theresa Tailoring Training Centre
Beauty Parlour course for women
Kamarajar Evening School
Child Labour Prohibition Special School
Free Library
Village Voluntary Blood Donation club
Eye Donation